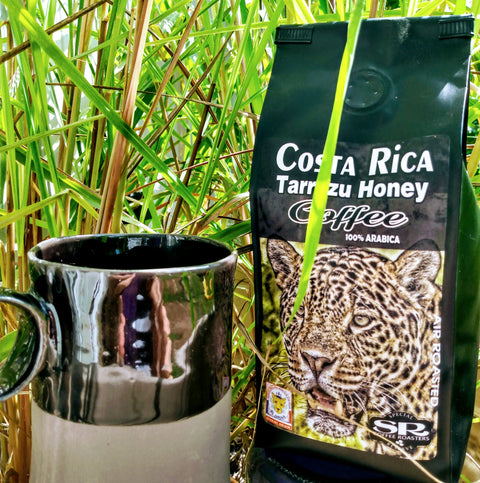 About Special Reserve
At Special Reserve Coffee, we are dedicated to sharing our lifelong love for coffee with our valued coffee family. With a deep appreciation for the origins and craftsmanship behind each bean, we strive to do justice to the farmers and all those involved in the coffee journey. Our mission is to source only the highest quality coffees, seeking out the finest beans from around the world.
Through our meticulous air-roasting process in small batches, we ensure that each coffee retains its unique nuances of flavor, delivering a truly exceptional experience in every bag. We take pride in our commitment to quality over quantity, offering a personalized touch that sets us apart from larger roast houses.
As the owner and roaster, I personally oversee every step, pouring my passion and attention into each batch. We aim to provide you with the freshest coffee and a sensory adventure that transports you to the rich aromas and flavors of our carefully selected beans.
Thank you for choosing Special Reserve Coffee. Your time and trust are greatly appreciated. We welcome your inquiries, special requests, and any questions you may have. Our goal is to serve you with excellence and create a memorable coffee experience. Join us on this journey with Special Reserve Coffee, where every cup is an adventure beyond just coffee.
Remember...
IT'S NOT JUST COFFEE...IT'S AN ADVENTURE!
The AeroPress
The AeroPress is a simple gadget that was invented about 15 years ago by an engineer, physicist, and Stanford lecturer named Alan Adler. He was impatient with the difficulty of making just one good cup of coffee in a drip coffee maker, and also with the time it took to do a pour over, which takes about 4 minutes. He tinkered around and came up with a distinctly non-sexy tool that quickly pressed hot water through the coffee.

This plastic gadget surprised Adler with its ease, but also with the taste of the coffee. He developed a fine paper filter that gave a very clean cup of coffee, without bitterness or the sludge that ends up at the bottom of French press coffee. He started producing the kit commercially and it became a cult success among coffee lovers. He initially marketed it as an espresso maker, but fortunately he dropped that, as it really produces strong, concentrated coffee — not true espresso.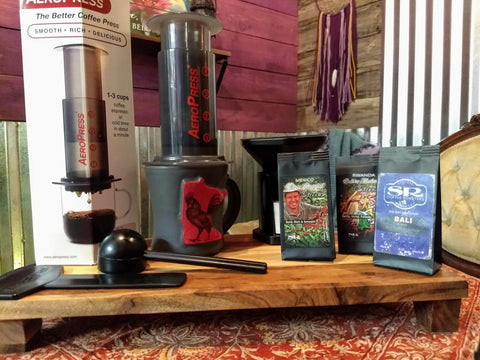 AeroPress
The AeroPress is perfect for any coffee lover looking for a rich and smooth cup of coffee! It's a new kind of coffee press that brews coffee under ideal conditions: proper temperature, total immersion and rapid filtering, which in turn results in an amazingly delicious coffee with a wide range of wonderful flavors without acidity or bitterness. It brews 1-3 cups of delicious Americano or espresso style coffee in about a minute, while clean up is even less. The AeroPress is loved by serious coffee lovers and coffee professionals around the world. It's a great addition to and most commonly used in the kitchen, but is so lightweight, compact and durable that it is also perfect for taking with you when you go camping, backpacking, or just anywhere because you never want to be without it and the ability to make your perfect cup wherever you go.
$39.95
$44.99
you save $5.04
Where to Buy
Local stores carrying our coffee brand
Smith Family Farms of Louisiana
Coffee Talk
Stay updated on news and other info
Upcoming Events
I will be set up and serving Little Eva's custom blended coffees! It will be a great day Saturday, April 29th 10- 4. Save the date.. Family fun at the pecan orchard. Click here for directions: https://www.natchitochespecans.com/
Testimonials
What people are saying about Special Reserve Coffee...
This is by far the best coffee I've ever had. If you're a coffee drinker, I highly recommend you try some of their many blends of coffee.
Angela Powers
Powerhouse K9
When your a dog trainer, you need an insane amount of energy! This is my go to!
People who take notes... tried our first batch of coffee this morning, Old Bistineau, and it was fabulous! Highly recommend and can't wait to try the others!
Gary Wrobel
Gnome Hollow Candle and Soap Company
I thought we were friends... friends don't sell their coffee to friends knowing they don't have an AeroPress. OMG! OMG! It totally changed my coffee experience! I thought the French Press was the greatest invention in coffee but the AeroPress is a game changer! My coffee tastes totally different now. I can get the subtle notes, it doesn't all taste "mostly alike" anymore! You've been holding out on me! What other tricks do you have up your sleeve?
It did not disappoint! I'm not good at describing coffee nuances like a wine sommelier, but this blend is very much my ideal cup of coffee. What a respite from my 2 1/2 years with only grocery store coffee, since I'm in a coffee desert, lol!